Event box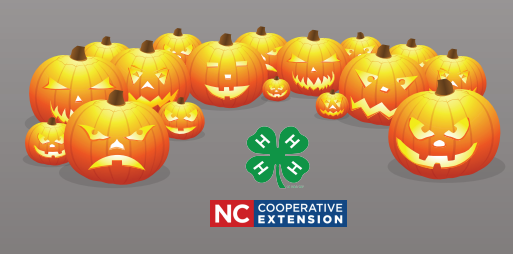 4-H Pumpkin-Palooza 2020
Online
"Welcome to New Hanover County 4-H's 2nd Annual Pumpkin-Palooza. This year's Pumpkin-Palooza will have a new LOOK for 2020… Pumpkin-Palooza is going VIRTUAL! We may not be able to see all of the talent and creativity of your carved pumpkin in person, but we can see and share through the virtual 4-H Pumpkin-Palooza Photo Contest! Contest is OPEN for photo entries from October 1 through October 26. Enter as many entries as you want. All photos must be of your original carved pumpkin (painted for the younger age group.)
Keep an eye on 4-H Facebook to view all the pumpkin photo entries throughout the month of October. All entries will be judged and the 1st through 3rd place winners per category will be announced October 30, 2020 through Facebook. The 1st place winners will receive a $25 gift card from Amazon."
Go to https://newhanover.ces.ncsu.edu/4-h-pumpkin-palooza for the photo contest registration form.
CONTEST CATEGORIES
5-7-year-olds (painted pumpkin)
8-10-year-olds
11-13-year-olds (middle school)
14-18-year-olds (high school)
Adult I (ages 19-39)
Adult II (ages 40 & up)
You may recycle (dispose) of your carved pumpkins at the Arboretum November 1 – 4. Wilmington Compost is sponsoring the re-purposing of your carved pumpkins for livestock feed and/or compost.
Date:

Tuesday, Oct 20th 2020 Show more dates

Time:

All Day Event

Time Zone:

Eastern Time - US & Canada (change)

Categories:

Online:

This is an online event. Event URL: https://newhanover.ces.ncsu.edu/4-h-pumpkin-palooza/

Attachments: